Upshot
Collaboration in a click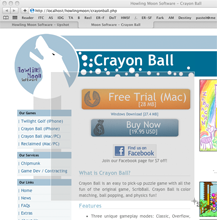 From the Upshot status menu icon, "Take Screenshot".
Now Upshot automatically uploads your image and can even copy it into your clipboard!
Now share with your co-workers and friends!
What is Upshot
Upshot is the easiest way to take and share screenshots on the Mac. When you take a screenshot with Upshot, it is automatically uploaded to the website of your choice, and the URL for the image is copied to your clipboard for easy sharing.
Upshot is the perfect tool for anyone working in a team or with a client. We've designed Upshot to be the easiest and fastest way to share whatever you are working on. Send your client an image of your work-in-progress website, show your friends screenshots of your latest game, or share a mockup with a teammate. Just snap a screenshot and paste the link into instant message, email, or twitter account!
Highlights:
Twitter Integration
Take a screenshot of any part of your screen or any window
Automatically upload to Imageshack or Twitpic
Choose your own global hotkey to Upshot (like Command-shift-2)
Growl integration
Advanced users can send images to their own webserver
Slick, fast, and easy to use
Requirements:
Upshot requires Mac OS X 10.5.